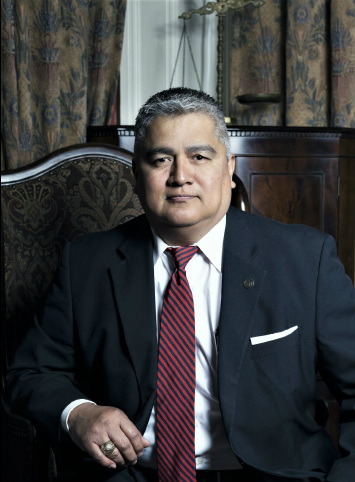 I consider trial by jury as the only anchor ever yet imagined by man, by which a government can be held to the principles of its constitution. --Thomas Jefferson to Thomas Paine, 1789

People come to a lawyer at the worst times in their lives. They are losing their home. They have lost custody of their children. They have been accused of a horrible crime. They are in need of help. They are in need of counsel. Most of all, they are in need of someone who can fight for them. That is why people come to the Law Offices of Eddie Cortes.

Mr. Cortes has spent his career fighting for the people against the awesome power and unlimited resources of the government. He has spent years honing his skills in front of juries throughout the state. He has aggressively defended clients at trial in cases as routine as Driving While Intoxicated or as complicated as Murder. He takes pride in the fact that he has never forced a client to sign a Plea Bargain and has never prosecuted anyone. He is the kind of lawyer who does not "cherry-pick" his cases. If his client wants a trial, he is going to get a Jury Trial. That is why people come to him: to get their day in court. His willingness to go toe-to-toe with district attorneys has also enabled him to have scores of cases dismissed and countless others reduced to less serious charges. Every case that walks through the doors is assessed in terms of how a potential juror would look at the facts and the accused. Tenacity, grit, integrity and frankness have been the hallmarks of his practice.

However, his aggressive tactics are not limited to the area of Criminal Defense. He has also represented clients in innumerable bench trials, hearings and mediations in areas as diverse as Civil Litigation, Personal Injury, Probate, Commercial Litigation and Family Law.

In the legal arena, there are "litigators," "trial lawyers" and "gunslingers". Who do you want working for you? If you have a fight on your hands, call us. We're here to help. If you have any legal issue whatsoever, contact us; if we can't help you, we'll find someone who can.

While his offices are on the North Side of Houston, he also represents clients in Conroe, Fort Bend and Galveston. If you have a case in the San Antonio area, this office can help there too.

---
Physical Address:
5902 Airline Drive
Houston, Texas 77076

Mailing Address:
P.O. Box 114
Houston, Texas 77001

713.694.2777
713.694.2888 fax
210.849.7777 cell

Evening & Weekend Appointments Available

Free Consultation



Between Tidwell & Parker, across from the old Doctor's Hospital.