DRUG CRIMES
Any drug conviction can have deleterious effects on a person's life and employment status. It can result in a suspension of driving privileges and once a defendant gets his driver's license back he will have to pay surcharges and reinstatement fees to DPS over and above any criminal penalties he may suffer in court. If the accused is involved in divorce proceedings or has a CPS case pending, a drug conviction could effect custody or visitation in a Family Law proceeding. Any license or permit by the state or application therefore, from a TWIC card to a cosmetology license, could be effected by a drug conviction. It could effect one's ability to get Federal assistance, financial aid or scholarships for school and even one's eligibility to join the military. If the accused is not a citizen of the United States, a conviction could result in his deportation, exclusion from the country and denial of citizenship.

Drug crimes in Texas are categorized by type of drug and amount. Depending upon what a suspect is caught with and how much of it will determine if they face Felony or Misdemeanor charges. Substances are divided up into four groups.

PENALTY GROUPS
1. Cocaine, heroin, methamphetamine, GHB, ketamine, oxycodone, and hydrocodone;
1A. LSD;
2. Ecstasy (MDMA/Molly), PCP, mescaline, hashish, concentrated marijuana oil, wax;
3. Valium, Xanax, and Ritalin;
4. Compounds containing Dionine, Motofen, Buprenorphine or Pryovalerone.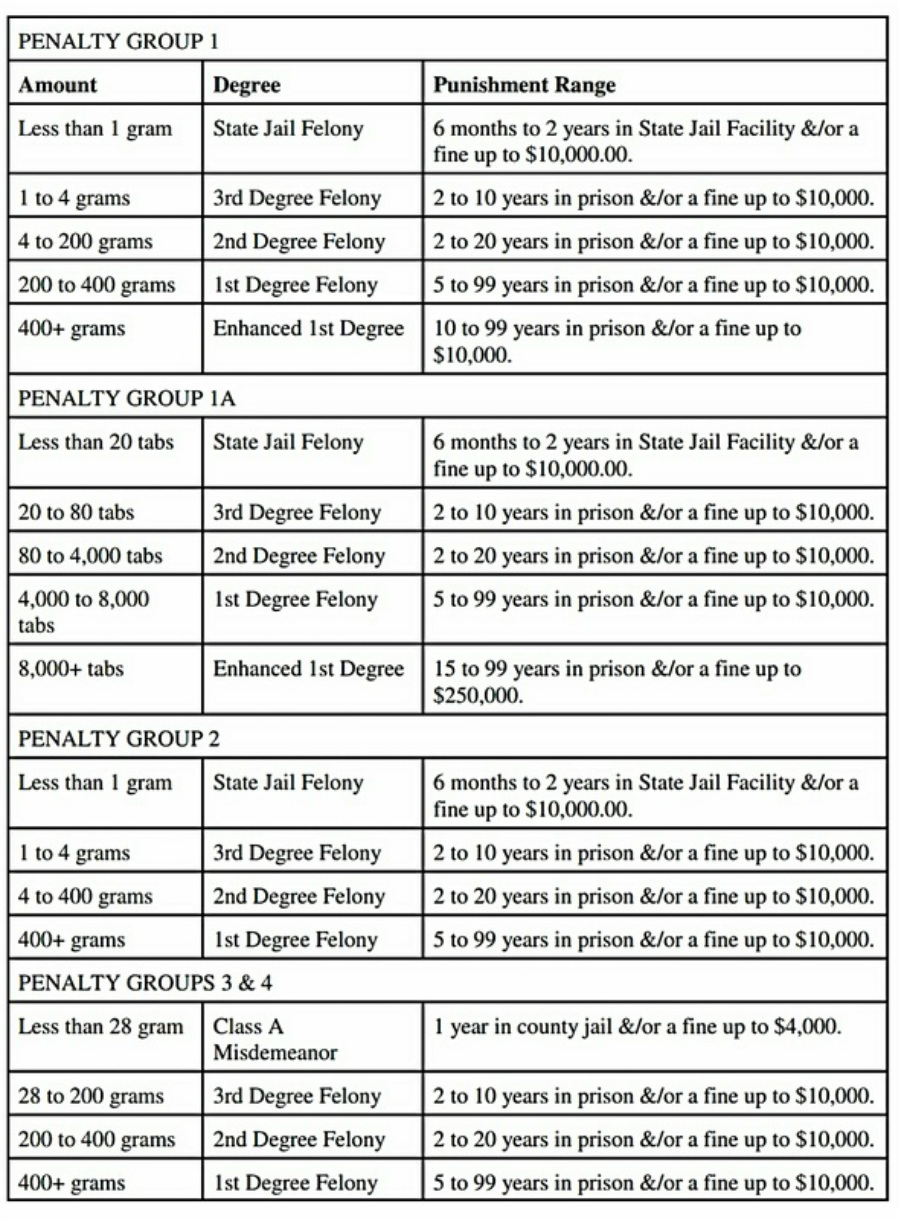 Larger amounts or conspiracy to distribute could result in Federal charges being filed.
It is important to understand that "possession" does not just involve what the suspect has "on him." Under the law the State need only prove care, custody or control.
MARIJUANA
Marijuana is a slightly different animal. Although it has been effectively decriminalized in small amounts in a number of jurisdictions, including Harris County, it is still, technically, illegal to possess. One cannot possess a weapon while possessing marijuana at the same time. One cannot drive while under the influence of marijuana. The smell of marijuana emanating from a vehicle is enough to allow a police officer to search said vehicle without the driver's consent. As with other drugs, it can result in driver's license suspensions and other problems.